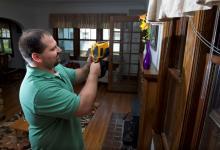 We offer infrared thermal imaging throughout the region, both as part of our comprehensive home energy audit and as a stand-alone service designed to pinpoint energy waste and other building science issues.
Having your home evaluated with an infrared scanner sheds valuable light on the effectiveness of your home's thermal envelope. An infrared scanner reveals hidden air leaks and areas where insulation isn't performing, and can also yield some interesting surprises -- such as where an uninsulated hot water pipe or recessed lights may be contributing to an ice dam, for an example. It's a valuable part of any good home energy audit, and a step that we guarantee to take with thoroughness and precision (although our experience tells us that it can also be a fun part of the energy audit for homeowners).
For more information about infrared imaging, or to schedule a free phone consultation, contact us today!
Contact Us
Energy Assessments for $250 or less
Schedule your FREE Home Estimate
Testimonials
I want to tell you that St. Croix Energy Solutions along with our electric provider (St. Croix Electric) did some work on our house, and with the rebates we doubled the attic insulation, improved all seals and insulated a wall in the basement- all of this for a 1/3 reduction in energy costs for under a 1000.00 dollars. Great people and an excellent work ethic!!!!