Ventilation in bathrooms is critical to controlling moisture and humidity. Almost without exception, however, most "builder grade" bath fans installed in homes don't living up to the airflow requirements specified in the building code. These bath fans are also often noisy, and have leaky ductwork, back-draft, and condensation issues due to poor installation. All things considered, many bath fans end up causing more problems than they solve. That's where St. Croix Energy Solutions comes in.
Top-Quality Ventilation Fans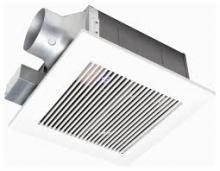 At St. Croix Energy Solutions, we install ENERGY STAR qualified, whisper-quiet Panasonic and Fantech ventilation fans. We insist on insulated, oversized ductwork and durable exterior terminations, so the humid air can easily ventilate to the outdoors. Our team also installs "smart control" switches that have options to automatically cycle the fan for whole-home ventilation and humidity control. The longevity, durability, and efficiency of these fans makes them an excellent choice for homeowners.
Bathroom Fan Retrofits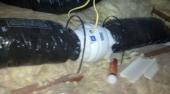 Have a heat-lamp, heater fan, or decorative fan housing unit that you'd like to keep? No problem! Our expert technicians can retrofit fan systems into existing fan housings. We're happy to accommodate so you can keep the elements and design details you like while still improving the exhaust fan itself, and keeping the mirror clear and mold and mildew at bay.
Quality Assurance with Post-Testing
We diligently post-test every fan installation to ensure that it not only meets but exceeds standard code requirements. Our team is committed to excellent service and diligent installations, and our tests ensure that your bathroom ventilation fan will operate at peak performance.
Contact us today to learn more about a bathroom ventilation fan for your Western Wisconsin or Minnesota home!
Contact Us
Energy Assessments for $250 or less
Schedule your FREE Home Estimate
Testimonials
We had our attic insulated over the house and garage plus 24 ventilation soffit chutes installed in the garage to provide better airflow. They also resolved an issue we had with our gas fireplace leaking which caused cold/hot air to come in when it shouldn't have. We can see why they were a recommended company for this type of work and we would recommend them to everyone. They were professional, knowledgeable, worked with our schedule to get the job done, they respected our home and made sure there was nothing disturbed or left unclean.... We are anxious to see the results in our energy bills, which we expect will be satisfactory if not more.