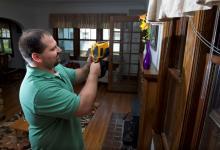 A home energy audit is the first step on the path toward a more comfortable, more affordable, healthier home. Using a variety of high-tech, state-of-the-art tools, we're able to identify the key areas where your home is wasting energy, and recommend the most cost-effective improvements for maximum comfort, minimum energy bills, and optimal indoor air quality and building health and safety.
Our approach in conducting home energy audits is to take a comprehensive, whole-house assessment of the home, which distinguishes our "whole-house energy audit" from the "clipboard audits" offered by many utilities, box stores, and companies that offer a discounted audit as a means to sell products or services.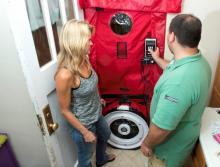 Our whole-house energy audit looks at the building envelope (which inludes all the components that make up your home's outer shell, including windows, doors, insulation levels, and the level of air leakage in between building materials); all combustion equipment including boilers, furnaces and water heaters; and the movement of air within the home to ensure that the air you and your family are breathing is fresh, healthy and safe. During the audit, we use an infrared camera to identify air leakage and deficient insulation, a blower door to measure the rate of air infiltration in the home, and a duct blaster test to determine whether your ducts are well-sealed, among other tools. 
Contact us with any questions or to find out more about our home energy audit process; we'd be happy to chat.  
Contact Us
Energy Assessments for $150 or less
Schedule your FREE Home Estimate
Testimonials
Do you hate sitting on a cold toilet seat at 2 A.M.? Hate walking across frosty floors when Fido needs go out at 3 A.M.? Hate those dollar stealing heating bills? Well. Use that negative energy to your advantage.....run, don't walk to your laptop and Google St. Croix Energy Solutions. Be prepared to meet the nicest and efficient installers you could ever hope to meet. Then sit back and wait for the mailman to deliver that next heating bill....you will be more than pleasantly surprised. Thankyou, to the entire sales force and installation crew for a wonderful job!