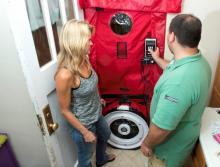 Blower door testing is a way to test the "leakiness" of your home. By depressurizing your home and measuring the rate at which air infiltrates through imperfections in the building envelope, we're able to assess how much energy (and money) is escaping through air leaks, and how much you're likely to save by fixing those leaks.
As part of this process, we will inspect the house with a smoke stick to pinpoint potentially hidden air leaks (making it much easier to address them when the time comes to get to work). We also offer blower door testing as an isolated service to test the effectiveness of improvements that have been made to a home, and to provide homeowners and contractors with a roadmap to further improve a home's efficiency moving forward.
In addition to being a critical component of a whole house energy audit, blower door testing is required for many green building and energy efficient building standards nationwide.
For more information about blower door testing, or to schedule a free phone consultation today, contact us here!
Contact Us
Energy Assessments for $250 or less
Schedule your FREE Home Estimate
Testimonials
St. Croix Energy Solutions recently came to our house for a home energy assessment. The staff while scheduling the appointment, the staff that came out and taught us about home energy, the staff explaining the rebate offers and the team that came out to perform the work were all kind, patient, organized and energized about their work~ no matter which role they played.

My husband and I had certain concerns, but Pete shared more tips on how to improve our home to make it more energy efficient. He walked through the whole house showing us areas that needed updating, gave us informative packets and gave us time to think and ask questions. The staff was prompt at r... (read more)