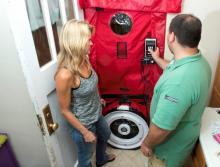 Blower door testing is a way to test the "leakiness" of your home. By depressurizing your home and measuring the rate at which air infiltrates through imperfections in the building envelope, we're able to assess how much energy (and money) is escaping through air leaks, and how much you're likely to save by fixing those leaks.
As part of this process, we will inspect the house with a smoke stick to pinpoint potentially hidden air leaks (making it much easier to address them when the time comes to get to work). We also offer blower door testing as an isolated service to test the effectiveness of improvements that have been made to a home, and to provide homeowners and contractors with a roadmap to further improve a home's efficiency moving forward.
In addition to being a critical component of a whole house energy audit, blower door testing is required for many green building and energy efficient building standards nationwide.
For more information about blower door testing, or to schedule a free phone consultation today, contact us here!
Contact Us
Energy Assessments for $150 or less
Schedule your FREE Home Estimate
Testimonials
We had our attic insulated over the house and garage plus 24 ventilation soffit chutes installed in the garage to provide better airflow. They also resolved an issue we had with our gas fireplace leaking which caused cold/hot air to come in when it shouldn't have. We can see why they were a recommended company for this type of work and we would recommend them to everyone. They were professional, knowledgeable, worked with our schedule to get the job done, they respected our home and made sure there was nothing disturbed or left unclean.... We are anxious to see the results in our energy bills, which we expect will be satisfactory if not more.