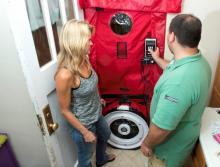 Blower door testing is a way to test the "leakiness" of your home. By depressurizing your home and measuring the rate at which air infiltrates through imperfections in the building envelope, we're able to assess how much energy (and money) is escaping through air leaks, and how much you're likely to save by fixing those leaks.
As part of this process, we will inspect the house with a smoke stick to pinpoint potentially hidden air leaks (making it much easier to address them when the time comes to get to work). We also offer blower door testing as an isolated service to test the effectiveness of improvements that have been made to a home, and to provide homeowners and contractors with a roadmap to further improve a home's efficiency moving forward.
In addition to being a critical component of a whole house energy audit, blower door testing is required for many green building and energy efficient building standards nationwide.
For more information about blower door testing, or to schedule a free phone consultation today, contact us here!
Contact Us
Energy Assessments for $250 or less
Schedule your FREE Home Estimate
Testimonials
Thanks for the excellent safe work done by St Croix Energy Solutions in completing the work insulating and adding attic ventilation for our home in St Paul. We had the attic knee-walls reinsulated with spray-on foam, and all the ceilings reinsulated with cellulous to R-60 or more. The ventilation will eliminate summer heat and winter moisture build-up. Very nicely done. Also, thanks for the rebate program that helps incentivize this work. I would have done this work anyway, but the rebates help bring the payback time sooner than if done without the rebate.